News Archive
2023

June

May

April

February

January

2022

October

September

June

May

April

March

February

January

2021

2020

2019

September

July

March

February

January

2018

2017

June

May

April

March

February

January

2016

November

October

September

August
Return to News
Winners – Made In Lincolnshire Awards 2017
Thursday, 18th May 2017
The winners of the 2017 Made in Lincolnshire Awards have been revealed during a ceremony at Lincoln's Hilton Hotel and we're pleased to announce that Sports & Leisure Brands, owners of Impsport, have won the 'World Class' category.
Impsport has been supplying custom cycling clothing to the globes elite sportsmen and women for over 30 years and it's wonderful for all the staff to be recognised by Made in Lincolnshire. Impsport garments have been worn by winners of the highest cycling accolades including; Tour De France champions, Olympic and Commonwealth Games gold medallists and World Champions.
Our team of expert designers and pattern masters utilise the latest digital printing technologies, whilst still offering a completely bespoke service to all our customers including Paralympians, youth riders and club-level riders in the UK and across the world. Fancy some Olympic quality kit? Find out what Impsport can offer your club by contacting us today!
The BBC's Melvyn Prior hosted the ceremony and winners were announced and prizes presented by event hosts and supporters Streets Chartered Accountants, Business Lincolnshire and NatWest Bank.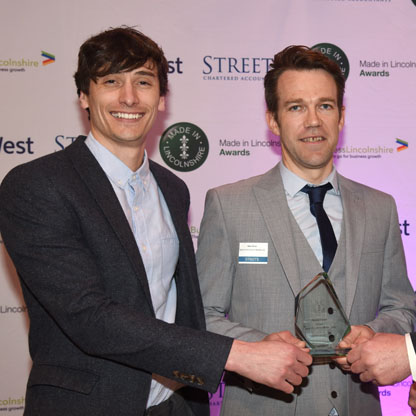 Made in Lincolnshire World Class
Winner: Sports & Leisure Brands Ltd
 (Left) Andy Gregory, Head of Creative & (Right) Matt Brian, Direct Marketing Manager
Garry Wilkinson, Senior Relationship Manager at NatWest Bank added: "There were many excellent entries and the quality of the applications made the task of judging an extremely difficult one, and the winners are well deserving of their success."