News Archive
2023

June

May

April

February

January

2022

October

September

June

May

April

March

February

January

2021

2020

2019

September

July

March

February

January

2018

2017

June

May

April

March

February

January

2016

November

October

September

August
Return to News
Race Update - Georgia Lancaster Sleaford Wheelers
Tuesday, 19th April 2022
I'm currently on the way to Dorset to race the second round for Junior National Road Racing Series. My last race in Hatherleigh didn't go the best, I got dropped early after making a silly mistake in the peloton and had to ride the majority of the race on my own in the cold rain and wind.
Although the race didn't go the best, I was proud of how I rode. I don't think I've ever had to ride with as much determination and heart. Nearly 15 riders didn't finish my race due to the tough course and weather, but I wasn't going all that way in my Sleaford Wheelers colours and not finishing. I ended up coming 27th and learnt a lot from it.
This race, I have a good plan with performance goals rather than an outcome goals so I can really start to work out what works well for me and what I need to do differently in the future. It will be a tough race this weekend. It's a strong field but training has been good and I'm looking forward to having some fun and not worrying about the race result, but instead trying to achieve my own personal goals. 
The suit was amazing in round one and I'm sure the same thing will be said for round two. The shorts and jersey are now my favourite to train in, both so comfy on the long rides whilst making me feel fast!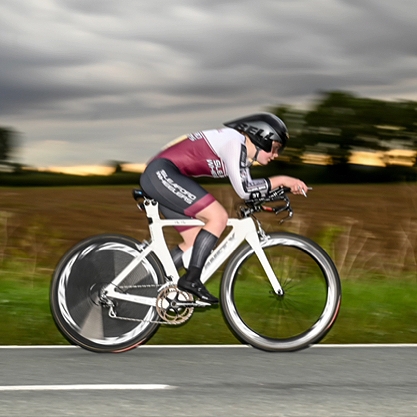 Image: Georgia Lancaster in the Impsport T3 TT Suit at the Sleaford Wheelers Time Trial (photo by Richard Howes).