News Archive
2023

June

May

April

February

January

2022

October

September

June

May

April

March

February

January

2021

2020

2019

September

July

March

February

January

2018

2017

June

May

April

March

February

January

2016

November

October

September

August
Return to News
Youth Talent Georgia Lancaster of Sleaford Wheelers
Wednesday, 8th September 2021
Update from Georgia who competed in the CTT National Youth Championship on the 4th Sept 2021 at Mallory Park.
Overall I came 4th and was the 2nd junior with a pb of 24.50. I was really pleased with this as neither me or my coach thought that top five would be truly realistic and we just set the aim as getting a 25.00. I'm also please because I started the season with slow 28's and at one point even got a 29.29 but have finished the season taking over 4 minutes off of this.
I've still got a way to go and I can't wait to start winter training and getting down the tough long miles to lay a good base for next year. But, once again I can't thank you enough for the suit, it made such a big change to my approach for this season making me believe that I truly could do it if I put my mind to it.  I'm really looking forward to seeing what next years season holds along with a bit of cross to keep me going through the winter.
---
Georgia Lancaster is an emerging talent at local club, Sleaford Wheelers. We recently fitted her with one of our new T3 suits (epically fast, especially when custom fitted to the rider) and she sent us this wonderful piece and photos. Thanks Georgia, it was great to meet you and fit you with the suit! From all at Impsport HQ we wish you the best of luck for your Further, Smarter, Faster cycling career to come.
"My name is Georgia Lancaster. I'm 16 years old and I am a rider for Sleaford Wheelers. I've always loved to ride my bike no matter what discipline, from cyclocross to circuit racing.  Last September I got the chance to go and ride the Cycling Time Trials (CTT) national youth time trial in Portsmouth. As it was only my first time trial season and I did not have time trial specific kit, I wasn't exactly sure what I was getting myself into. However, I jumped at the chance to experience a bigger race, and came 11th! Thanks to my perseverance and performance, following the race, Impsport offered to sponsor me a fitted T3 Race Suit. This was a wonderful surprise, and demonstrates that you don't have to be at the top of the field and or experienced in TTs to be recognised and supported.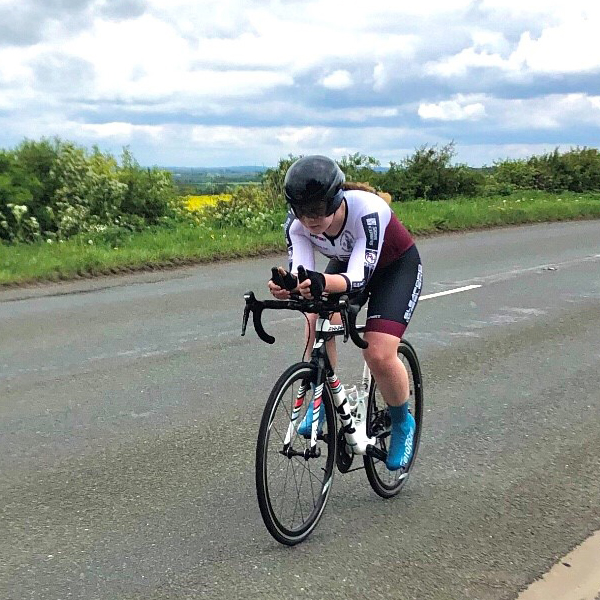 Not only has the new suit helped me make massive progress in time trials, the fact that a company like Impsport had gone out of their way to help me has increased my confidence and drives me forward.  Since receiving my new suit I have made a big leap in progress and I am proud to say I'm the current junior course record holder for the Lincoln TT course. I am not at the top of the field but I am willing to put in all the effort I need to, to get there. It isn't always easy being a cyclist as a teenage girl, and with the silly tan lines and helmet hair it definitely isn't a pretty sport. However, the community around cycling and the rewards you get from it makes it an amazing sport to take part in. I can't thank Impsport enough for the support and generosity and I can't wait to see what the future holds."