News Archive
2023

June

May

April

February

January

2022

October

September

June

May

April

March

February

January

2021

2020

2019

September

July

March

February

January

2018

2017

June

May

April

March

February

January

2016

November

October

September

August
Return to News
Action Medical Research
Wednesday, 8th February 2017
Impsport has the great privilege of being official kit supplier to Action Medical Research. AMR offer the very best charity cycling events and cycling for charity is a great way to stay healthy whilst supporting medical research for babies and children.
10% of all Impsport Action Medical Research Kit sales go directly to Action Medical Research to help support their valuable work.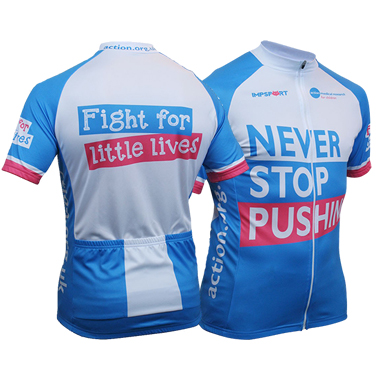 There are lots of organised events throughout 2017 which are a perfect way to get involved either as an individual or group of friends. You don't need to be super fit or athletic either, as the routes range from 20 miles to 110 miles. The London to Paris bike event is the largest of its kind, lasting four days and involving hundreds of cyclists, bonded by a desire to raise money for our work as a charity.
Action.org.uk has details of all the 2017 events as well as buy-one-get-one-free offers on the Ride100 Series plus all the help and support you'll need to help raise funds and have fun!
Contact Impsport today if you would like to raise money for your charity.